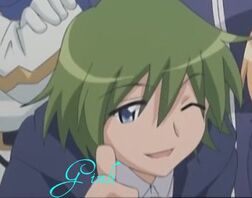 GIMLI
---
A student at the Tristain Academy of Magic and good friend of his fellow student Reynald. It is rumored only to the Order of Odin was under Captain Guiche de Gramont joined because he has suddenly experienced a surge in popularity with the girls at the academy. He and Reynald helped Saito and his friends rescue Tabitha and her mother from King Joseph. He, Reynald, Siesta and Colbert used their Flying ship to lure Tristain's guards to Germania in order to help Saito's group.

PHYSICAL APPEARANCE
Gimli is having an greenish-colored hair.
MAGICAL AFFINITY
Wind
Image Gallery
See Chapters in third Season ZNT-Princess no Rondo
---
Ad blocker interference detected!
Wikia is a free-to-use site that makes money from advertising. We have a modified experience for viewers using ad blockers

Wikia is not accessible if you've made further modifications. Remove the custom ad blocker rule(s) and the page will load as expected.