Albion of the Wind is the second volume of The Familiar of Zero.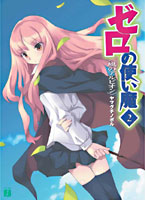 It was felt that Saito and narrow the distance at a party Louise, Louise treat a servant as ever Saito. Saito does not understand is, just fight with Louise. Saito is not convincing, just fight with Louise. One day, the princess Henrietta Torisutein, we have Louise's had a wish. The Prince of Albion was once love, that I want you to return the love letters exchanged. The letter offers came never to be seen by others. We assumed Saito, but would go along with Wardes Viscount escort, I Wardes, the fiancee Louise, or how -!?

---
Chapter 2 - Her Majesty's Melancholy
Chapter 3 - A Childhood Friend's Request
Chapter 4 - Port City - La Rochelle
Chapter 5 - A Rest Day Before Leaving
Chapter 7 - The Prince of a Dying Country
Chapter 8 - The Eve before the Final Battle in Newcastle
---
---
Ad blocker interference detected!
Wikia is a free-to-use site that makes money from advertising. We have a modified experience for viewers using ad blockers

Wikia is not accessible if you've made further modifications. Remove the custom ad blocker rule(s) and the page will load as expected.